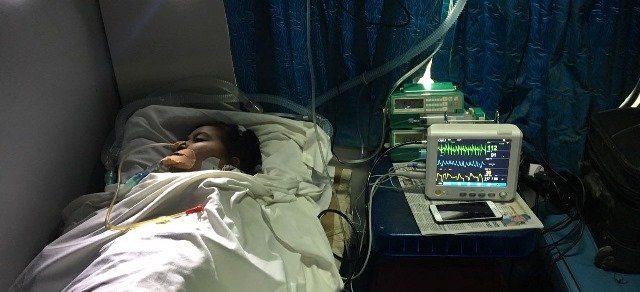 About Train Ambulance Service in Mumbai
Generally, the patients from this city always go to the local hospitals for medical treatment and remedy. Most of the patients from India also come here to get their further higher medical treatment. According to the economical expenses, the people take their loved ones to this metropolitan city for their treatment's sake. They choose an Air Ambulance, Road Ambulance, or Train Ambulance. Here, Ansh Ambulance Service always assists them by providing Train Ambulance Service in Mumbai.

The medically registered and certified Ansh Ambulance Service provides complete medical transportation supplies in advanced conduction. With the help of MD physicians, ICU Specialist Doctors, Paramedical Technicians, and Nurses; this ambulance service provides Train ICU Service Privileges for emergency patients.

This ambulance service provider sets the entire emergency equipment inside Rajdhani Express Train Class 2AC or 1AC in Tier II. This emergency medical setup is produced in accordance with the patient's requirements. The portable and trusted medical accessories are well connected with the patient from one bed to the destination bed.

The patient is brought from the hospital to the railway station and vice-versa by Advanced Cardiac Life Support Road Ambulance. The medical team takes full-responsibilities from the starting bed to the admission bed.
Do MD and ICU Specialists operate Train Ambulance Service in Mumbai?
Yes!
It is the team of highly experienced ICU Medicare Team Unit who operate this Train Ambulance Service from Mumbai to anywhere in India. ANSH AIR & TRAIN AMBULANCE SERVICE has been transferring the patient from one city to another city since 2016 in India.

As per the patient's requirements and the guest's request; this ambulance service company also provides an MD to take care of the patient in Train.
How many members do travel in Train Ambulance Service in Mumbai?
Generally, the package of Train Ambulance Service is based on a full-ICU setup where four berths are reserved for Class 2AC or 1AC in Rajdhani Express. The four berths belong to one patient, one doctor, one paramedical technician, and one attendant.

There is no restriction on adding a person to this Train Medical Journey. The patient's relatives can join us with their train tickets.
Does a patient get full-time oxygen support and ICU treatment in Train Ambulance Service in Mumbai?
Of course!
An ICU patient, who is on oxygen support or he is on a ventilator; ANSH Ambulance Service provides complete ICU treatment service in Train. Under the Bed-2-Bed Service System, the treatment goes on. There are enough oxygen cylinders and emergency medical devices well-equipped in train.