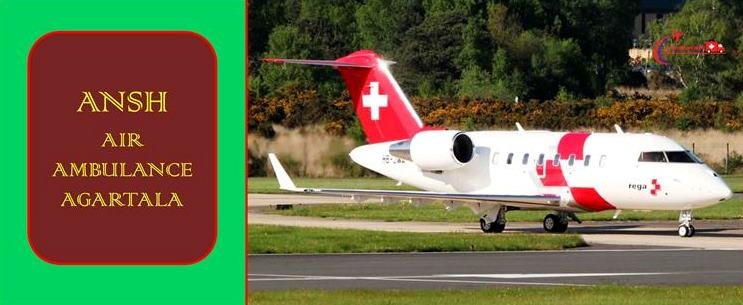 About Air Ambulance in Agartala
| Airport | Details |
| --- | --- |
| Airport Open | 1942 |
| Airport Name: | Maharaja Bir Bikram Airport as Agartala Airport |
| Airport Code | IXA |
| Address | Agartala, Tripura 799009 |
| Serving/Type: | Agartala/Public |
| Owner/Operator | Airports Authority of India, AAI |
| Busiest | 33rd Position |
| Aircraft Movements: | 10,130/yearly |
| Elevation | 14 meters |
| Airlines Hub For | Commercial Airlines |
| Airways Stretchers | Air India, Air Asia |
| Charter Aircraft | Jet Aircraft, King C-90, King B-200, Pilatus PC 12, Citation XL, others. |
---
About Ansh Ambulance Service in Agartala
Agartala is the capital of Tripura located in the north east region in India. This city is a greenery city where the people always adopt the natural climate all the time. Whenever the people require any emergency medical transport journey, they are in the quest of the reliable aeromedical rescue service provider. To pacify and resolve the patients' problem, Ansh Ambulance Service in Agartala is one of the overhauling and well-developed air charter medical flight services to transfer the patients anytime. This service is accessible to everyone in the city people and their needy ones round the clock. Ansh Air Ambulance Agartala has all the emergency and non-emergency medical transport services such as- Air Ambulance, Train Ambulance, Ground Ambulance, Dead Body Transportation Service (worldwide), Coffin Box, Mortuary Delivery at Home, Ambulance with Freezer Box, and ICU Ambulance Service facilities.
ANSH AMBULANCE SERVICE from Agartala is supporting all the classes of patients to shift them from this city to Delhi, Mumbai, Kolkata, Chennai, Hyderabad, Vellore, Bangalore, overseas, or the required another city hospital. This service is facilitating this aeromedical rescue transportation or medical transport services at all the moment of time. It is easily available to the needy place where he needs urgently. Ansh Air Ambulance Medic Care ICU Team Unit (Doctors, Paramedical Technicians, ICU Nurses, and Medical ICU Personnel) detect all the patients' issues and keep on treating during the whole medical journey. The advanced and at home in medical team keeps all the emergency supporting equipment (Portable Ventilator, Cardiac Monitor, Infusion Pump, Nebulizer Machine, Suction Machine, Oxygen Cylinder, External Pacemaker, Emergency Drugs, Laryngoscope, Defibrillator as well as the whole basic and advanced life caring devices) from one hospital bed to the destination hospital bed to the last.
Ansh Air Ambulance Cost Agartala provides the patients the most reliable service and the least booking cost in season and out of season. This service is open for 24/7 in 365 days with the familiar response and quick service facility to the patients. The needy one takes the booking confirmation in good faith to him that is really authentic and real.
Why ANSH AMBULANCE SERVICE in Agartala
Basic, Standard, and Advanced All types of Emergency Medical Equipment and Setups
Available 24/7 All Faculty of Medical ICU, CCU, NICU, MICU Specialists and Experts
Medical Transfer Service in the Pursuit of a Complete Patients' Accommodated Bed2Bed
A Small Primary and Ultimate Medical Journey Completed via ACLS Ground Ambulance
Full-Time Medical Treatment, Inspection, and Safe-Hand Caring During the Transportation