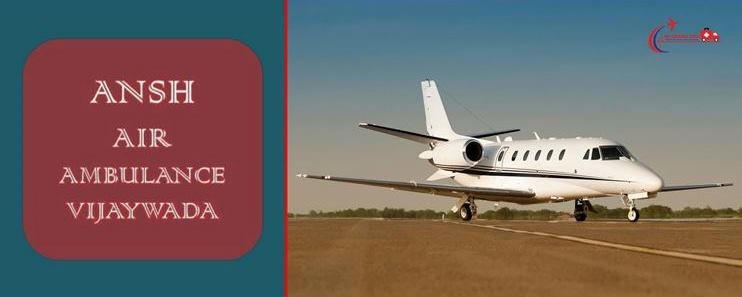 About ANSH Air Ambulance Service in Vijayawada
| Airport | Details |
| --- | --- |
| Airport Open | 3rd May 2017 |
| Airport Name: | Vijayawada International Airport |
| Airport Code | VGA |
| Address | NH16, Gannavaram, Andhra Pradesh 521102 |
| Serving/Type: | Andhra Pradesh Capital Region |
| Owner/Operator | Airports Authority of India, AAI |
| Busiest | 39th Position |
| Aircraft Movements: | 22,630/yearly |
| Elevation | 25 meters |
| Airlines Hub For | Commercial Airlines |
| Airways Stretchers | Air India, Air Asia |
| Charter Aircraft | Jet Aircraft, King C-90, King B-200, Pilatus PC 12, Citation XL, others. |
---
24/7 Hours Air Charter Medical Flight Service on phone
ANSH Air Ambulance Service in Vijayawada is one of the emerging and leading medical evacuation services. This Service Provider is serving and lifting the unmovable and ICU patients from this city to Delhi, Mumbai, Chennai, Bangalore, and abroad. Analysing all the critics of the people and the patients, this emergency 24/7 Hour service renderer is available all the needy ones anytime within a quick moment of time.

ANSH Air Ambulance Service from Vijayawada to every desired city is rounding up for all the time being. With all the high quality and transparent patients' treating process, this is the highly recommendable air ambulance, and all the medical evacuation service providing assistances. Each and every patient gets highly intensive care unit in which ICU specialist, Medical Personnel, Doctor, Paramedics, and Medic Care Takers care for the patients from one bed to the ultimate bed. ANSH Air Ambulance in Vijayawada provides all the sets of emergency medical equipment such as- Portable Ventilator (Adult and Paediatric), Infusion Pump, Cardiac Monitor, Suction Machine, Nebulizer Machine, Portable and Jumbo Oxygen Cylinders, Defibrillator, External Pacemaker, Emergency Drugs, and all the basic and advanced life revitalizing stocks.

ANSH Air Ambulance Low Cost Service Vijayawada always demands for the most economical and payable shifting charges from the guests. All the medical executives and assistance are very alert round the clock to help the patients anytime. There is only theme of this company is quality always beats quantity in medical emergency services in quick time.
Why ANSH Air Ambulance Service in Vijayawada is for the Patients: -
With the best and Highly Expertise ICU Specialists and Medical Personnel
With High-tech and Top-Notch ICU Emergency Equipment and Devices
With a Committed Medical Evacuation Services based on Bed-2-Bed
Accessible to each Class of People at very Genuine and Fair Price