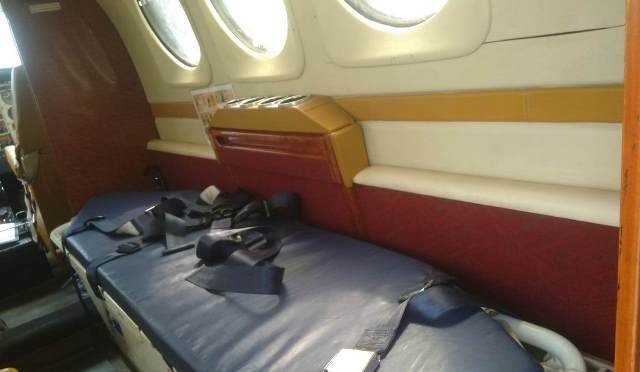 Air Ambulance Service in Ludhiana
| Airport | Details |
| --- | --- |
| Airport Open | |
| Airport Name: | Sahnewal Airport as Ludhiana Airport |
| Airport Code | LUH |
| Address | Sahnewal, Punjab 141014 |
| Serving/Type: | Ludhiana/Public |
| Owner/Operator | Government of India, GOI |
| Busiest | Below 50 Position |
| Aircraft Movements: | Below 1000 |
| Elevation | 254 m |
| Airlines Hub For | Commercial Airlines |
| Airways Stretchers | Air India, Air Asia |
| Charter Aircraft | Jet Aircraft, King C-90, King B-200, Pilatus PC 12, Citation XL, others. |
---
About ANSH Air Ambulance Service in Ludhiana
ANSH Air Ambulance Service in Ludhiana is a 24/7 Hour India's Top-Rank Aeromedical Rescue Service in India. This air ambulance service is accessible to all societies of Ludhiana people at all moment to shift their loved one out of this city hospital. This world-wide Air Ambulance Medical Intensive Care Team Unit caters providing all types of medical evacuation services such as- Air Ambulance, Train Ambulance, Cardiac Road Ambulance, ICU Ambulance, Dead Body Transportation (worldwide), Coffin Box, Ambulance with Freezer Box, Mortuary Delivery at Home Service. All of the emergency and non-emergency medical evacuation services are available round the clock to every class of people of this city. ANSH Air Ambulance Service stands with the medical panel of Doctors, Paramedical Technicians, ICU Nursing Staff, Medical Crew, Medical Personnel, and Medical Assistance to care for the patients during the dispatching time.
ANSH Air Ambulance Service from Ludhiana-Delhi, Ludhiana-Mumbai, Ludhiana-Chennai, Ludhiana-Vellore, Ludhiana-Bangalore, Ludhiana-Kolkata, Ludhiana-Hyderabad, and the pre-determined another city super-specialty hospital is a usual medical evacuation aerial route. ANSH Air Ambulance Ludhiana ensures all the medical journey with all the emergency medical accessories like- Portable Ventilator (Paediatric and Adult), Infusion Pump, Nebulizer Machine, Oxygen Cylinders, Laryngoscope, Cardiac Monitor, Suction Machine, External Pacemaker, Defibrillator, Emergency Injections and Medicines, and the whole sets of basic and advanced life supports providing them from one bed to the destination bed. The call attendants and medical assistance support and help the needy one through online media of communication in connection with their patients.
That ANSH Air Ambulance Service Cost Ludhiana has the lowest cost in comparison with the market cost for anyone. This service company does have only fair and reasonable pricing for the patients which is semi-variable sooner or later. The reliable and affordable price does not vary among the different one.
Why ANSH Air Ambulance Service in Ludhiana is for the Patients:
Medical Evacuation Service Totally Consists of Bed-2-Bed Medic Transportation
Experienced and Authorized Panel of Medical Intensive Care Unit Team Members
Latest and Highly Trustful Emergency Equipment and Medical Devices Set Up
The Conduction of Total Medical Journey under the Medical Supervision with Treating
24/7 Hour Service Availability and Transportation Facility for any faculty of Patients
Neither Incognito nor Fake Cost Demanded from the Guest Except Worthy Price