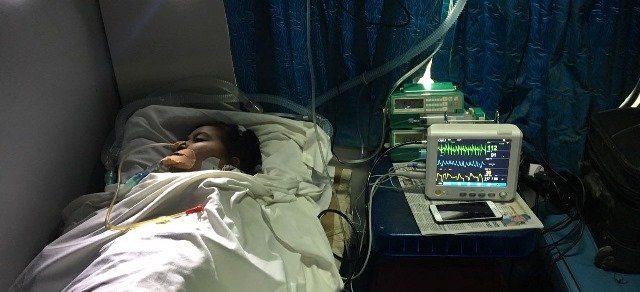 About Train Ambulance Service in Delhi
Ansh Train Ambulance Service in Delhi is a fully ICU Certified patients transportation service provider. This Air & Train Ambulance Service Company operates each emergency medical vehicle such as Air Charter Ambulance, Charter Aircraft Medical Flight, Commercial Stretcher, Train Ambulance Service, and Emergency ICU Ambulance Service all over India from the capital city of India.

Basically, this ambulance service company provides all types of emergency medical Intensive Care Units and setups in air, road, and train ambulance. According to the demand of Delhites, Ansh Train Ambulance Service provides all the emergency medical accommodation to transfer the patient inside Rajdhani Express, Duronto, and Fast Trains.

The Class of the 2nd and the 1st AC Tier II are chosen to produce the Medical Setup. India's most experienced ICU Specialists (Doctors, Paramedical Technician, Nurses, and Medical Personnel) impoverish this railway line medical evacuation service. All ages of patients can take part in this Train Medical Transportation Service. Firstly, Ansh Ambulance Service provides ALS Road Ambulance Service to bring the patient from Hospital to Railway Junction and drop the patient vice-versa. From the patient's picking time to the shifting time, the entire sets of emergency equipment are connected with the patient properly in advanced manners.

The name of Emergency Medical Equipment and Supplies are Adult Ventilator, Neonatal Ventilator, Cardiac Monitor, Infusion Pump, Suction Machine, Oxygen Cylinders, Regulator, Ambu Bags, Nasal Masks, Sanitizers, Nebulizer, Emergency Medicines, and so on. The EMT setup is produced like Specific Intensive Care Unit, CCU, ICU, NICU, and Neuro ICU.

This is the Train Ambulance Service Cost where the people of Delhi, NCR always call us. We, Ansh Ambulance Service from Delhi always provide the guest a loyal, updated, economical, and budget-friendly booking cost. This ambulance company transfers the patients from Delhi to Mumbai, Chennai, Kolkata, Hyderabad, Patna, Guwahati, Ranchi, Bangalore, and other cities.
Who can operate Train Ambulance Service in India?
Any Ambulance Service Provider can operate Train Medical Transportation Service in India. Presently, Most Private ALS Ambulance Service Providers operate this Railway Line Medical Evacuation Service. Here, Ansh Air & Train Ambulance Service Company is specialized in this Train ICU Service Facility for all the departments of severe patients.

In fact, the Managing Director of Ansh Ambulance Service has more than 5 years of experience in this Train Ambulance, Air Ambulance, and Air Charter Ambulance Service. She organizes a huge channel of EMTs and ICU Setups where all kinds of patients get the same medical treatment and care during the ambulance journey.
Can a ventilator patient get full-time medical Intensive Care Unit Support by Train Ambulance Service in Delhi, NCR?
Exactly!
A Ventilator Patient gets full-time medical ICU Support by Train Ambulance Service in Delhi, NCR. The long-time experienced EMT of Ansh Ambulance Service conducts this railway line medical transportation service.

Generally, Emergency ICU patients need further higher medical treatment, they change their hospitals. Here, this ambulance company starts the entire medical journey under point-2-point service privileges. One ICU Doctor and one Paramedical Technician take responsibility for the patient's care. With the 24/7 Hours Services, this ambulance service is always standing with you on phone to your patient's bed.
How is a Train Ambulance Service beneficial for the patients?
This is a comprehensive question of how Train Ambulance is beneficial for Patients in India. With all the ease and comfort, Ansh Ambulance Service makes a count of its benefits.
Inside Train Ambulance Service, the patient gets all faculties of ICU doctors.
All the portable emergency medical equipment and accessories are available.
Chance of Infection in Train Ambulance Service is at least for long-journey
Any long-medical journey can be operated for any severe patients' transfer
Cost of Train Ambulance Service is not very high as Air Ambulance cost
The medical team and the patient's relative feel easy in Train
There is more space, well-accommodation, and no-infection in Train
The patient can go anywhere in India within Train Time Table
Neither tedious nor boring medical evacuation service by Train