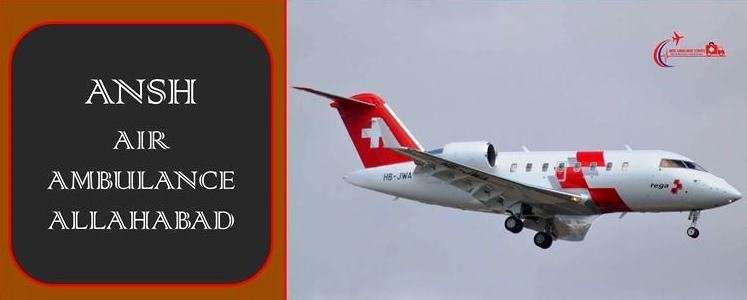 Allahabad Airport Details
| Airport | Details |
| --- | --- |
| Airport Open | January 2019 |
| Airport Name: | Allahabad Airport |
| Airport Code | IXD |
| Address | ITBP Road, Bamrauli, Prayagraj, Uttar Pradesh 211012 |
| Serving/Type: | Military/Public |
| Owner/Operator | Indian Air Force, IAF & Airport Authority of India, AAI |
| Busiest | NA. |
| Aircraft Movements: | N/A |
| Elevation | 98 m |
| Airlines Hub For | Commercial Airlines |
| Airways Stretchers | Air India, Air Asia |
| Charter Aircraft | Jet Aircraft, King C-90, King B-200, Pilatus PC 12, Citation XL, others. |
---
About ANSH Air Ambulance Service in Allahabad, UP
Allahabad is also known as Prayagraj is one of the most pious and religious cities in Uttar Pradesh of India. The people of this city are very amiable and sober. For the emergency time, they go to the local city super specialty hospitals. But in the higher treatment or surgery, they always mostly leave for Delhi, NCR. Allahabad Airport is a military airbase as well as public airport serving the entire people of Allahabad. This is India's oldest airport in India. To diminish their emergency or non-emergency medical transfer condition, ANSH Air Ambulance Service in Allahabad is always their medical sheet anchors. This aeromedical rescue service provider has India's most MICU, CCU, NICU, and Emergency Medical Dispatching Team Unit. They all are well-behaviour and highly responsible for each and every medical transport service.

ANSH Air Ambulance Service from Allahabad is transferring the severe or damn serious patients to Delhi, Mumbai, Chennai, Bangalore, Vellore, Hyderabad, or another country for all the moment of time. The Medical Transport always pursues a complete mirror of ICU Service where the patients get the most reliable treatment and services during the whole journey. ANSH Expertise Medical Team is active for 24/7 and always keeps all the emergency medical revitalizing equipment sets. Those names are- Vent, Suction Machine, Infusion Pump, Nebulizer, Oxygen, Defibrillator, External Pacemaker, ambu bags, and the entire sets of basic and advanced life assistance and supports as well.

Quality always beats quantity and Transparency always quashes Opaque. Here, ANSH Air Ambulance Cost Allahabad always provides a very transparent and genuine cost for all classes of people. This rescue service always takes care of each small to grand issue of the guests. Therefore, it always provides a complete and trustful one ICU to the destination ICU bed medical transfer service at very economical fare.
What ANSH Air Ambulance in Allahabad is Loyal for People:
Best Provision and Sanitary Environment of Medical ICU Setup
World's Most Experienced and Responsible MICU Specialists
An Advanced and Intensive Supervision of Medical Team Unit
Lower to Lowest Cost for All Classes of People in India
A Complete & Xclusive Medical Transport Service (B-2-B)