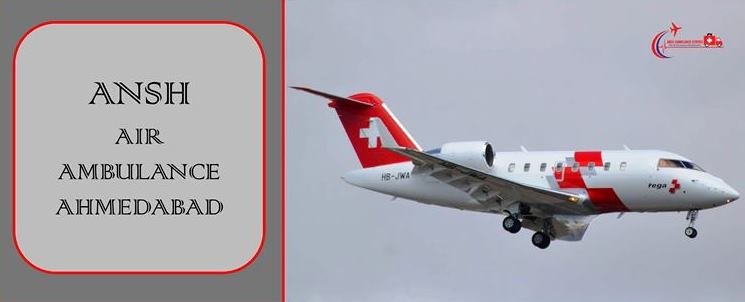 Ahmedabad Airport Details:
| Airport | Details |
| --- | --- |
| Airport Open | 1937 |
| Airport Name: | Sardar Vallabhbhai Patel International Airport |
| Airport Code | AMD |
| Address | Hansol, Ahmedabad, Gujarat 380003 |
| Serving/Type: | The city of Ahmedabad and Gandhinagar/Public |
| Owner/Operator | Airports Authority of India, AAI |
| Busiest | 7th Position |
| Aircraft Movements: | 78,412/yearly |
| Elevation | 58 m |
| Airlines Hub For | Commercial Airlines |
| Airways Stretchers | Air India, Air Asia |
| Charter Aircraft | Jet Aircraft, King C-90, King B-200, Pilatus PC 12, Citation XL, others. |
---
About Ansh Air Ambulance Service in Ahmedabad, Gujarat
Ahmedabad is one of the most trading city in India's state Gujarat. This city is the most prosperous with economic zone and business trading view. These days, this city of the people whenever they get a lack of emergency higher treatment, they look for emergency medical transport services and go out of the city. Ansh Air Ambulance Service in Ahmedabad is very helpful and trustworthy air ambulance services. It has all types of air charter medical flights where any severe or chronic patient can easily and swiftly move from this city to the destination city anytime.

Primarily, this emergency and non-emergency Ansh Air Ambulance Service from Ahmedabad to Delhi, Mumbai, Kolkata, Chennai, Vellore, Chandigarh, Hyderabad, Bangalore, or another destination point is working to assist them for 24/7 hour at any cost. This service providing proven company has world's experienced medical intensive care unit of doctors and paramedics' team who take care of the patients all the time being. The World Class Medical Team Unit is fulfilled with all the emergency equipment such as- Hi-tech Ventilator (Adult and Paediatric), Suction Machine, Infusion Pump, Nebulizer Facility, External Pacemaker, Defibrillator, Oxygen Cylinders, Emergency Medical Drugs, and all the basic and advanced life supports.

As people always pay for all the demanding price of the emergency service providers. But here Ansh Air Ambulance Cost Ahmedabad is always standing at its most loyal price and genuine demanding cost from the patients' relative. This is India's first emergency service providing the company that has numerous medical transportation services like- ICU Ambulance, Dead Body Transportation, Portable Mortuary at Home Service, Coffin Box and Ambulance with Freezer Box Services. This Medical Transport Service Company always provides a complete one bed to the destination bed service and the same treatment occurred during the journey.
Why Ansh Air Ambulance Service Ahmedabad is for the Patients:
24/7 Emergency Medical Assistance with the Best Conduction and Call-Revert Services
The Expertise and Experienced Medical ICU Specialists Team Unit and Medical Personnel
The Market-Beating Competitive Booking Price for the sake of Bed-2-Bed Transfer Service
All types of Emergency Medical Equipment and Accessories with the Patients
Always Dedicated and Moral Giving Worth in connection with the Severe Patients