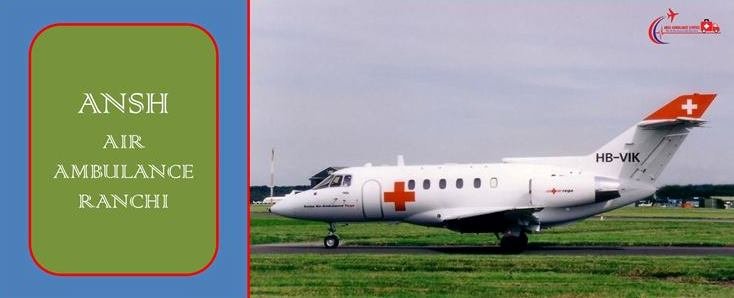 Air Ambulance Service in Ranchi
| Airport | Details |
| --- | --- |
| Airport Open | 1949 |
| Airport Name: | Birsa Munda Airport as Ranchi Airport |
| Airport Code | IXR |
| Address | Hinoo, Ranchi, Jharkhand 834002 |
| Serving/Type: | Ranchi/Public |
| Owner/Operator | Airports Authority of India, AAI |
| Busiest | 26th Position |
| Aircraft Movements: | 16,869/yearly |
| Elevation | 655 m |
| Airlines Hub For | Commercial Airlines |
| Airways Stretchers | Air India, Air Asia |
| Charter Aircraft | Jet Aircraft, King C-90, King B-200, Pilatus PC 12, Citation XL, others. |
---
About ANSH Air Ambulance Service in Ranchi
ANSH Air Ambulance Service in Ranchi is India's most demanding air ambulance transfer services. It is one of the most emerging air ambulance services that is transferring the highest patients from Ranchi to Delhi, Vellore, Chennai, Bangalore, Mumbai, Kolkata, Hyderabad, Bangalore, and the other city. This 24/7 Hour Continuous emergency and non-emergency service provider that has the best medical intensive care unit amenities. Any chronic or severe patient can travel along with this aeromedical rescue service anytime for the sake of his or her higher treatment or surgery. Many patients from Hill View Hospital, Orchid Hospital, Rani Hospital, Ashirvad Hospital, Max Orthopaedic Hospital, and Medica Hospital are leaving to India's other metropolitan city super specialty hospital for their higher treatments under this service.
ANSH Air Ambulance Service from Ranchi is a full-time 24/7 Hour emergency care and service providing medical transport facility. Any moment of time its call attendants assist the guests and provide this aeromedical dispatch service. The best and experienced medical ICU, NICU, CCU, and Specialists conduct this medical evacuation service having each and every hi-tech emergency equipment. The service always pursues a complete bed-2-bed service where the patient does not have any difficulty during the displacement.
ANSH Air Ambulance Cost Ranchi always cares for the guest's expenses so it never charges high cost. It always gives Human Service the first priority and afterward profession. On the demand of the people, this emergency service is opened and now serving the people by heart and soul.
Why ANSH Air Ambulance in Ranchi is Reliable among People:
India's Expert Medical Intensive Care Unit Transport Medic Team
All the High-Caring and Reliable Medical ICU Equipment Set Ups
Rely on Low Cost, Trustworthy Demands, and Ethical Price Anytime
Specific Conduction and Movement of Aeromedical Rescue Service
Full-Time MICU Team Unit and Bed-2-Bed Services via ACLS