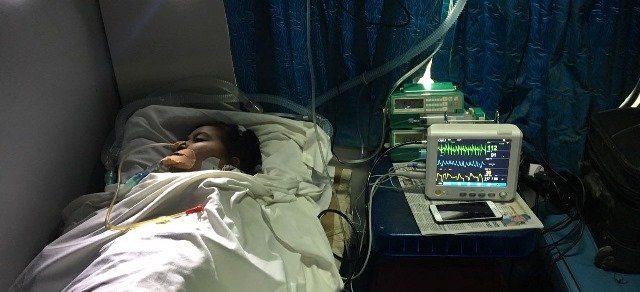 About Train Ambulance Service in Guwahati
Guwahati or Gauhati is a city that is located in north-eastern India. This city is a part of the Indian state of Assam. The Brahmaputra River flows in the southern region from this city. This city also adopts the natural climate, green environment, and beauteous scenario due to this reason the foreigners and country people visit here to enjoy them sooner or later. There are many medical asylums, hospitals, and clinics where sick people get their medical treatment. In the case of higher treatment or surgery; they always move to other metropolitan cities such as Delhi, Mumbai, Kolkata, Chennai, Vellore, Hyderabad, and Bangalore.

Generally, Guwahati city has an airport, railway station, and roadway transportation medium. Therefore, there are all the ambulance services such as air ambulance, train ambulance, and road ambulance services are easily available to the people of this city. Ansh Ambulance Service is mainly an important part of their medical transportations. This ambulance service company provides the best and latest version of the Medical Intensive Care Unit in Rajdhani Train or the fastest train.
Why do the people of Guwahati choose this Ansh Train Ambulance Service?
It is a remarkable question why people choose this Ansh Train Ambulance Service from Guwahati to transfer their old-age, new-born, or mature patients. In fact, the patients from this city mainly go to Delhi, Bangalore, Chennai, Mumbai, Kolkata, and Vellore for their higher emergency medical treatment. The private charter aircraft ambulance service cost is always higher than Train Ambulance Service. In this condition, Train Ambulance Service is safer and the fewer tedious medical journey in comparison with Road Ambulance Service.

Ansh Ambulance Service provides the same medical team who always conducts Aeromedical Rescue Service. This ambulance company provides the entire set of emergency medical equipment such as Adult or Neonatal Ventilator, Cardiac Monitor, Infusion Machine, Suction Pump, Nebulizer, Oxygen Cylinders, Emergency Medicines, and all the basic and advanced life supportive accessories. Train Ambulance Service is based on a complete bed-to-bed medical evacuation service where this company completes it with the help of the same ICU setup and team. This is the cost of Train Ambulance Service where the ambulance company describes each and every expense for this medical journey.
When is this Train Ambulance Service from Guwahati to Delhi or another city available to the patient after booking this medical call?
It is so nice. Generally, the distance from Guwahati to Delhi is around 1900 KMs by Road, 1500 KMs by Air, and 1900 KMs by Train. As the person who wants to avail of this Train Ambulance Service from Delhi; then he must confirm the procedure of booking to the company before 24 to 48 Hours.
Who conducts this Train Ambulance Service for an emergency ICU patient?
It is obvious that one trained and ICU Specialist doctor is eligible to complete this ambulance journey. However, Ansh Train Ambulance Service provides one ICU Doctor and one trained Paramedical Technician who operates this Train Ambulance Service. All the hi-tech and portable emergency medical equipment sets are well-connected with the patient that assist and monitor the patient's condition during this medical journey.
A schedule of Train Ambulance Service from Guwahati:
Guwahati-New Delhi (12423/RAJDHANI EXP)
Guwahati-Mumbai (15646/GHY LTT EXPRESS)
Guwahati-Vellore (12516/SCL CBE EXPRESS)
Guwahati-Chennai (12552/KYQ YPR AC EXP)
Guwahati-Bangalore (12552/KYQ YPR AC EXP)
Guwahati-Hyderabad (12514/GHY SC EXPRESS)
Guwahati-Kolkata (12346/SARAIGHAT EXP)