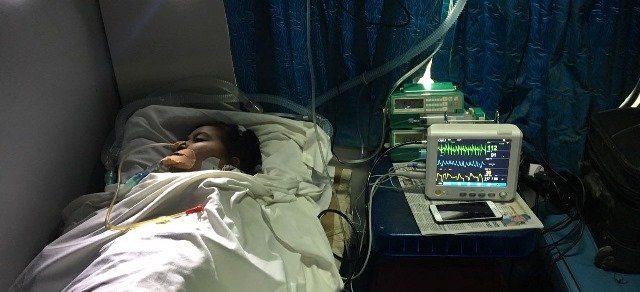 Train Ambulance Service in Delhi
In fact, Train Medical Evacuation Service is also known as Train Ambulance Service in India. The Railway Ministry or Government of India has not given any additional facilities for this railway line medical journey except Train Tickets. All the private ambulance companies carry the patients and transfer the patients by their respective responsibilities. Ansh Ambulance Service also provides this Train Ambulance Service with the help of expert EMTs Doctors and ICU Staff from Patna to anywhere in India. The selections of the fastest trains (Rajdhani Express, Duronto Express, and the others) are chosen for the railway line medical journeys.

Ansh Ambulance Service provides this Train Medical Transportation Services by 1st AC Train Medical Service & 2nd AC Train Medical Service. Generally, this ambulance company ensures four berths of 1st or 2nd AC Train Tickets. The four members are one patient, one doctor, one paramedical technician, and one attendant who travel in this Train Medical ICU Package. All the required emergency medical accessories and equipment are included with the patient in this railway line medical journey. Cardiac Care Road Ambulance Service works as a mediator of this Train Ambulance Service. This TMT Service is completely based on Bed-2-Bed where this ambulance medical team unit takes full responsibility.
The Privileges of Train Ambulance Service in India:
If we compare with this Train Ambulance Service with Road Ambulance or Air Ambulance Service then we find out the following benefits:
Less Jostling: Train Medical Transportation Service is at least jostling than Road. Especially, the patient who is prohibited to travel by air can easily travel along with us by Train Ambulance Service.
Medical Team: Where The ICU Specialists Team escapes from making a road ambulance call, there Train Medical Transportation is the best option. Air Charter Medical Team operates this Train Ambulance Service and completes this TMT Service.
Time-Saving: In fact, the Train journey saves time and money and the same thing applies in TMT Service. With saving time, this medical journey always protects to become more tired.
Spacious Accommodation: For the emergency ICU medical setup, Four Berths of 1st or 2nd AC is enough in Train. Our medical team easily produces the same required medical ICU setup as the patient needs in this spacious accommodation.
Low-Infection: In Train, the chance of infection is at least because of air and open environment. Our medical team always sanitize (Dettol) the four berths before adjusting the medical ICU setup.
Easy Travelling: The train journey is always easier than the road journey for long-distance. Where one side the patient gets full-time medication and treatment, there the family does not get tired and boring in this medical journey.